In cooperation with VitalSource Bookshelf, Akademika supplies digitale resources. Go to «Digital» at the top of the webpage to find a wide selection  available at all times.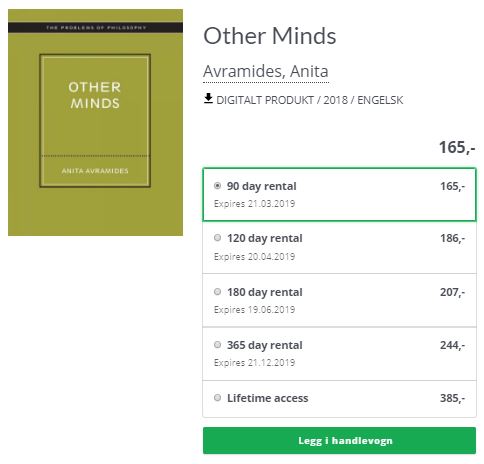 Most products listed here will be possible to rent for a periode of time. All listed items can be bought  and kept by you on a permanent basis. Once you have found the product you wish to buy, the next step will be to to choose which type of access you wish and click «Add to cart». Once this is done you may choose to continue shopping or complete your purchase by clicking on to the shoppingcart an proceed to checkout.



After completing your purchase you will receive an e-mail including your activating code and instructions for how to use Vitalsurce Bookshelf.
It will not be possible to buy several identical digital products in the same transaction and all purchases must be made using a bank card. Contact our customer service if you wish to purchase more than one of the same product.

VitalSource Bookshelf is one of the leading solutions on the market for digital resources. Having this digital bookshelf gives you lots of possibilities for making your life as a student easier.